From Chernobyl, to 'Bama, and Back (Part 3)
"Welcome to Alabama"
All week long on Alabama Public Radio, we've been looking at the ongoing impact of the so called Children of Chernobyl program. Twenty years ago, Alabama families hosted children living in the shadow of the 1986 Chernobyl nuclear plant disaster. APR and the University of Alabama's Center for Public Television collaborated on the story how after this time, the family bonds created by the program still appear strong. In part three, we explains what happened when the kids got here.
"I mean it was an impossible task, to get the kids here, to get their visas, to raise the money," Patrick Friday said.
If you've ever travelled overseas, you know what a challenge it can be. Now, consider what he did starting in 1999.
"It's just a miracle every time the kids came, and they came," he said. "We had four or five groups over the years, 250 kids."
Friday's job was as coordinator of the Children of Chernobyl program that flew youngsters from the former Soviet nation of Belarus to Alabama.
"I remember being in the airport in Minsk, the capitol of Belarus and all those families were there. And I was telling them what was going to happen," he said.
That day, 20 years ago, the kids hold their passports and plane tickets tightly. Some of the parents hold their children even tighter.
Years of meetings to reassure everyone just didn't seem to help today.
"They were also really worried about their kids, because it's not Europe, you know. It was just America across the ocean," Vita Lutsko said.
She starting working with Friday in 1993.
"My mom introduced him to me," she said, "And I got a suggestion from Patrick Friday to move to Alabama with a group of kids, and as my mom's helper as an interpreter."
And, speaking of Vita's mom.
"Before the flight, the families were excited, how would to be, what would happen? how would the kids behave, because they didn't know any English as I told," said Larisa Shapavelenko, Vita's mother.
Being a translator was just her day job. Shapavelenko raised Vita in Belarus in the aftermath of Chernobyl nuclear plant disaster. That meant she knew how tough it had been for the parents.
"The situation became quite difficult here," Larisa said. "And, it was rather difficult for parents to organize the proper life for children."
Now, Shapavelenko and her daughter would travel with up to eighty children at a time during the trips to Alabama. Each young person was presented with a red baseball cap they were asked to wear all the time, so they'd be easy to spot by their host families.
"I was very excited, it was … it was new experience for me. It was really interesting for me to explore, so yeah," Ivan Kovaliou said.
He's in his early thirties now. But, he was just 9 years old when he headed to the United States. His parents first told him about the Children of Chernobyl program and wanted him to go. Looking back years later, Ivan figured they knew what they were doing.
"If my parents believed in this program, believed that people in other countries can take of me. I think they thought Americans were good people," Ivan said.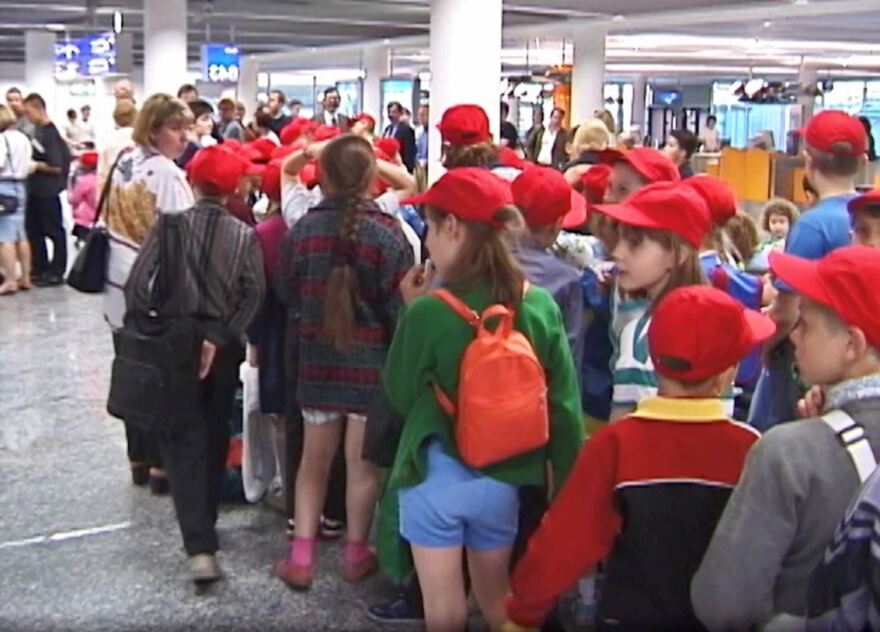 Ivan's parents may have convinced the overseas trip would go fine. But, Larisa Shapavelenko, a little less so.
"They didn't know what the plane, how to behave in the plane, and that was rather difficult," she said.
"Everything was exciting. Everything was an adventure, everywhere they went," Friday said.
"Certainly as we came onto a plane, and you had sometimes up to eighty children coming onto a plane all once," Friday said. "They wanted to try out everything, and press all the buttons, and that created some interesting moments."
And that included changing planes in Frankfurt, Germany, then onto New York and Atlanta before arriving by bus in Birmingham to meet their host families.
"It was interesting, because 'A' you couldn't communicate," said Susan Lee, who, along with her family, took in Ivan during his time in Alabama. "They knew no English and we knew no Belarusian. I think they taught us how to say hello in Belarussian, and that was about it."
And the translation issues weren't just for the American families.
"Guys especially boys, they liked when they were taught to play baseball," said Larisa Shapavelenko. "It was rather difficult for me, to explain what is going me. But, nevertheless, they enjoyed it."
"I was telling him he had to take a shower every night," Lee said on living with Ivan "And, they don't take showers every day, it's not ninety five degrees and one hundred percent humidity there," she said. "So, he would go into the bathroom, turn on the water, and then he would turn it off and come out, and think I didn't know he hadn't taken a shower."
And Susan Lee and her family weren't the only ones making adjustments.
"Min yosavoot Condit, cogdala.. I just said my name is Condit, how are you?" Condit Steil said.
It was the first Russian phrase he learned as he and his wife became host parents.
"We had a little book of sound alike, look alike…they could point to the term in Russian and we knew what they were saying in English," Steil said. "And it gradually grew. We picked up some Russian and they picked up some English."
Susan Lee's guest from Belarus was nine year old Ivan. The Steils took in an 8-year-old girl named Katia. Condit Steil recalls when he and wife first applied to be host parents.
"As we got to talking, my wife and I are both pharmacists," he said, which prompted a question from organizers. "What do you think the idea, is it we could provide some medicines for them. So, I said let me do some homework. I'm happy to do that," he said.
And, that's how the Steil's role got a little bigger. The children weren't coming to Alabama just for picnics and baseball games. There was medical care as well. Each visit started off with a trip to the dentist. There were also checkups by pediatricians and hearing tests.
A 2018 United Nations report on the health impact of Chernobyl focused on thyroid cancer. This childhood illness has increased steadily to almost 6,000 cases by 2015. But, not everyone seemed convinced, even in Belarus.
"It was either complete denial or every minute of every day was related to Chernobyl," Friday said.
"I think most people had either denial of what it meant or the impact, which is just a survival technique, they couldn't think about it all the time, it was so devastating," he remembered. "Or they had the Chernobyl syndrome, which means everything that ailed them, they attributed that to Chernobyl…everything."
Another school of thought was how Chernobyl worsened poverty in Belarus. Sixty percent of the radiation fell on that nation. The humanitarian group Chernobyl Children International estimates Belarus spends 20 percent of its annual budget managing the aftermath of Chernobyl. If so, that's money not spent on health, education, or anything else. Patrick Friday says either way, harm was done.
"Think about our own kids when they live in particular situations, it affects their development," Friday said. "Whatever it might be…mentally, physically, and spiritually."
Once the children finished their doctor visits in Alabama, it was off to less scary destinations like video arcades. While this went on, Condit Steil was reaching out to other pharmacists for donations.
"Antacids, cough syrups, vitamins, aspirin, Tylenol, antibiotic ointments for cuts and wounds," Steil said. "A lot of things you don't think about that are always in your medicine cabinet."
Steils' Sunday school class held packing parties so each child got a pair of plastic gallon bags of medicine. There was also one more request: donated gift wrapping paper.
"So, we had Mother's Day, and we had Easter, and we had a birthday gift wrap wedding gift wrap, Christmas…it didn't matter," he said.
There was a reason for that. The medicines Steil was gathering were either expensive or unavailable in Belarus. Disguising them as gifts was meant to keep local officials from stealing them. More medicines were sent by mail after the visits to Alabama drew to a close.
"It was a new experience for me," said Ivan Kovaliou, who was 9 when he spent a little over a month with Susan Lee and her family in the city of Pelham.
"I learned more about Americans," he said. "I learned more about their lifestyle. Of course, even that time, we had no information about America, where is it?"
"So, when the departure time came, obviously people couldn't leave the child at the bus," Friday said.
The families were changed as well. They couldn't just say goodbye.
"They needed to go with us to whatever else we needed to go. So, it was kind of like a caravan. We just didn't want to let go," Friday said. "And ultimately, putting the kids on the plane. There wasn't a dry eye. Everyone was crying."
The children did go back, but that's not where the story ends. We'll talk about that tomorrow in part four.