APR Documentary Wins International Award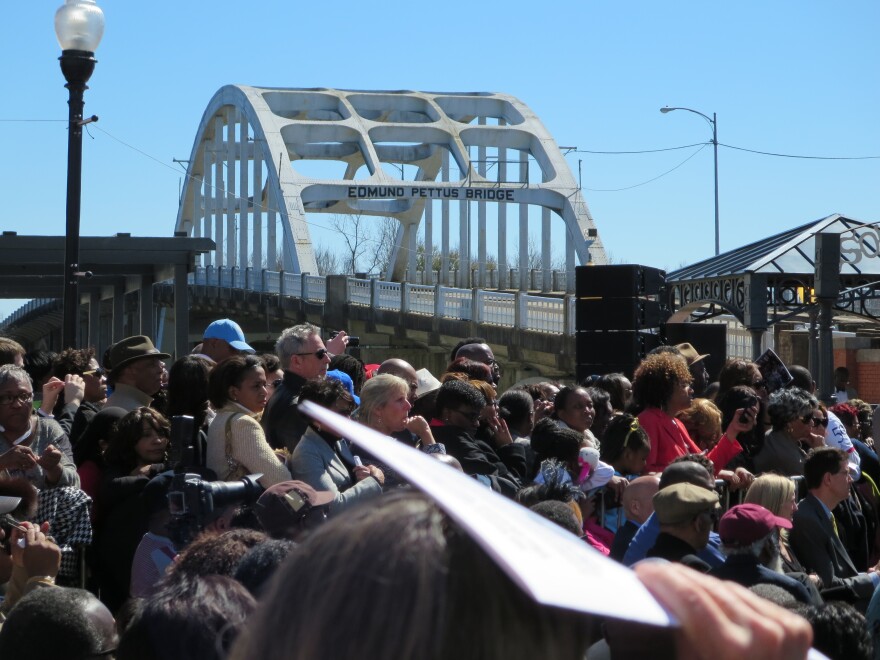 The New York Festivals International Radio Competition named Alabama Public Radio the winner of the "Bronze Radio Award." The honor is for APR's documentary "More Bridges to Cross," focusing on the 50th anniversary of "bloody Sunday" in Selma. In 1965, a sheriff's posse used tear gas and clubs to attack voting rights marchers on the Edmund Pettus Bridge. Fifty years later, 70,000 people gathered to remember this historic moment in the civil rights movement. APR produced a program that combined breaking news coverage of the chaotic event with "enterprise" stories from the news department.
The APR news team shares this international award with former student intern Sarah Sherrill. She produced a segment on Selma from "a young person's perspective." Her story included interviews with the Reverend Frederick Douglas Reese, who invited Dr. King to Selma, as well as the daughter of civil rights photographer "Spider" Martin.
"We're all delighted with Sarah's success," says Elizabeth Brock, director of the Center for Public Television and Radio. "The University of Alabama's generous support of APR and all the broadcast units at the Digital Media Center is meant to provide students 'real-life' journalism experiences along with academic study. This award is emblematic of that partnership between the college and its professional staff."
In another segment, news director Pat Duggins explained how Selma's first "walk to freedom" didn't occur in 1965, but rather in 1865 during the Civil War. Union troops were followed by freed black slaves on the same route to Montgomery used by voting rights marchers led by Dr. Martin Luther King almost exactly one hundred years later. APR's Stan Ingold told the story of Selma resident Sonja Houston who planned to be married with the Edmund Pettus Bridge in the background.
"The Sonja Houston story is legendary around the newsroom," says Duggins. "Everyone in Selma had heard of a young lady who wanted to be married near the Edmund Pettus Bridge, but nobody knew her name. APR's Alex AuBuchon worked the phones, cold-calling wedding planners in Selma, until he found the one handling Houston's wedding."
APR was the only finalist from Alabama in this year's New York Festivals International Radio Competition, and the only finalist from the United States in the "History" category. APR competed against 20 entries from Australia, Canada, Denmark, Great Britain, Hong Kong, Ireland, South Korea, and New Zealand. APR won its first New York Festivals award in 2014 for the documentary "Civil Rights Radio."