Florence Men Face Human Trafficking Charges, Safe Boating Week in Alabama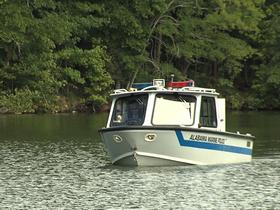 A Florence attorney and an 83-year-old man are each facing multiple charges of human trafficking.
Alabama Attorney General Luther Strange's office announced indictments against 51-year-old Edward "Chip" Dillard and Timothy Staggs in a news release yesterday. Strange says Dillard and Staggs are accused of taking advantage of young female victims in the Lauderdale County area. He declined to give any further details, saying it is an ongoing investigation.
Dillard, an attorney, has been indicted on seven counts of second-degree human trafficking, in addition to other charges including two counts of making terroristic threats. The charges against Staggs include five counts of human trafficking.
Attorney General Strange has asked anyone with additional information about Dillard or Staggs to come forward. His office can be reached at (334) 242-7300.
Safe Boating Week wraps up today in Alabama, and the state Marine Patrol Division hopes that message sticks during the Memorial Day weekend.
The number of boats on Alabama waterways is expected to increase by 200% over the long weekend. Tips for safe boating include having a designated pilot who doesn't drink before getting behind the wheel.
Todd Lett is with Alabama's Coast Guard Auxiliary. He says there are other important tips to bear in mind as well.
"One of the biggest things is wearing the life jacket. In a number of accidents that result in fatalities, people didn't have their life jackets on. 76% of fatal boating accident victims died from drowning. Out of that 76%, 85% of those people weren't wearing a life jacket."
Lett says close to three quarters of fatal boating accidents also included a boat pilot without basic safety training. The Alabama Marine Patrol Division says another tip is to keep to the right, so other boaters can safely pass on the left.
The Memorial Day holiday is here, and the American Automobile Association says low gas prices could make it a busy one.
The average price of gasoline in Alabama is just over $2 per gallon. That's a sixty cent increase since February. Still, AAA spokesman Clay Ingram says motorists are paying forty cents less per gallon than they were a year ago, and it may get even better.
"Usually, our highest price point of the year is somewhere around the Memorial Day weekend. So if we can stay around $2 a gallon, I think for the better part of the year, we'll probably be under that."
AAA predicts 38 million motorists will hit the road over the long weekend. For Alabama, that means higher than usual traffic as people make their way to destinations like the Gulf Coast. Ingram points out Alabama also attracts drive-through motorists heading to Georgia and Florida.

Audio File
Alabama Public Radio's morning newscast for May 27.
Edit | Remove