From Chernobyl, to 'Bama, and Back -- An APR news series
April 20, 2021
Next week marks thirty five years since the Chernobyl nuclear plant disaster. The 1986 explosion in the Soviet nation of Ukraine sent radioactive fallout drifting north over the neighboring country of Belarus. That's where families in Alabama stepped in. During the years 1999 and 2000, over two hundred Belarusian children were flew to the State for medical treatment and a chance to get away from the shadow of Chernobyl. Alabama Public Radio and the University of Alabama's Center for Public Television collaborated for close to two years to tell this story. This may have been twenty years ago, but the family connections still appear strong.
"I have a picture we took at the lake the other day, with Ivan and my other three kids," said Susan Lee, who in Pelham Alabama.
"And, I showed somebody the other day, and I said 'here's my four kids," Lee insisted. "I have four kids.' So, he's part of our family."
It's not unusual to have a favorite family group shot. But, in this case, getting everyone together to say cheese took fifteen years. The reunion took place at Birmingham-Shuttlesworth International Airport in central Alabama. It's late June of 2019, and no one is wearing a face mask. The COVID-19 outbreak is still eight months away.
"Going from the short, little, nine year old shy boy he was to now," said Susan. She stood by with her husband, her two sons—one armed with a home video camera—and a daughter in a wheelchair.
"He's a man, and he's successful, and smart and he's educated and he's caring and loving. And for us, he's just a part of the family,' said Lee.
It doesn't take long for the guest of honor to appear. He's a young man in his early thirties. He's in a t-shirt, shorts, and sneakers. He's also wearing a big grin as he glides down the escalator from the arrival gates for hugs captured on video. Greeting someone from out of town at an airport isn't all that unusual. But, in this case, the term out of town doesn't seem to cut it.
"My name is Ivan…Russian…Kovaliou," he said. Ivan and the Lee family last saw each other almost twenty years ago. But, when he talks about them, it doesn't sound that way—especially when it comes to Susan.
"She was like my second mom, so yeah," said Kovalieu. "So, it was really cool that I became a member of their family at that time. It was like five minutes, that's it."
And it's the international event that drew the Ivan and the Lee's together that's the point of today's story. It was on April 26th of 1986. This was all five years before Ivan was born. He heard about it from his mother and grandmother.
"So, they told me about how they oved from the Chernobyl zone, to other parts of the country," said Ivan.
Yes, Ivan means that Chernobyl. The nuclear plant disaster in the Soviet nation of the Ukraine sent up a cloud of radioactive iodine, cesium, and strontium-90. The fallout drifted north into the nation of Belarus where Ivan lives to this day. The news broke when scientists in Sweden detected the radioactivity. Ivan says he's okay, but not everyone in his family was unaffected.
"My uncle was," Ivan recalled. "So, he still takes some drugs for the radiation. So, I think it was an impact for everyone in the country."
And Ivan's uncle wasn't alone. Studies show that following Chernobyl, the number of thyroid cancer cases jumped tenfold. That includes children where it rarely appears. That prompted families in Alabama and the state's United Methodist Church to get involved. Starting in 1999, an estimated two hundred children in the shadow of Chernobyl were flown to Alabama for medical treatment and a chance to spend time away from the threat of radiation.
"I think my first real experience was a year or two before we had Ivan stay with us," said Susan Lee. Her family wasn't part of the first wave. But they saw it.
"Some other families in church hosted, and so being a teacher, being someone who loves kids, I thought 'oh my gosh, is this amazing,'" said Lee.
The program became known as Children of Chernobyl. And Ivan says it wasn't just families in Alabama who were in on it.
"Actually, I hear about it from my mother," said Ivan.
Soon, a nine year old Ivan, known then by the nickname of Vanya, would be making his first plane flight and his time meeting Americans. He figured his parents knew better.
"For example, if you don't you want your child to go a country you hate, so you will not send them. It would be strange," Ivan said.
It all sounds quick and easy. But organizers say it wasn't. Over the next few days, we'll look at how children of Chernobyl came together, how it went here in Alabama, and the impact it had on these families, on the children, and on the nation of Belarus itself. In part two, we'll look at how the United Methodist Church got the Alabama program going, and how they needed someone on the inside to make it work. That's in part two.
April 21, 2021
"The Inside Man"
Next Monday marks thirty five year since the Soviet nuclear plant disaster that became known as Chernobyl. Yesterday on APR, we met the Lee family of the city of Pelham. They took in a nine year boy from the nation of Belarus in the year 2000. Belarus is just north of where the Chernobyl plant blew up in 1986. It's also where a lot of the radioactive fallout drifted. Alabama Public Radio and the University of Alabama's Center for Public Television collaborated on the story on how children from Belarus were brought to our state for visits in the late 1990's. Here how it all got started.
"He was pretty shy around us, for quite a while," said Susan Lee. She lives in Pelham, Alabama.
"He was always happy. He was a boy. He had a little mischievous side. But, was always fun loving and happy," Lee said about Ivan.
He was just ten years old when he visited Alabama in 2000, and at that time he spoke no English. Ivan Kovaliou and children like him flew to Alabama from the former Soviet nation of Belarus. After changing planes in Frankfurt, New York, and Atlanta, they boarded buses for a two hour ride to Birmingham.
They all look a little tired as they wave to the camera for this twenty year old video. Each is wearing a red baseball cap. Organizers didn't want them to get lost in the crowd that was waiting for them.
As each child steps off the bus, they're greeted by families holding signs with slogans like welcome to Alabama written in Russian. At first, the youngsters in their red caps are clumped together in one group, and their host families in the other. Each seems a little unsure what's next. Then, slowly, everyone is paired off. Instead of whisking the children away, the families spread blankets on the grass near the parking lot for a get to know you picnic. In her case, Susan Lee knew Ivan came a long way for that all-American lunch, and why.
"It wasn't until many years later that I realized the depth of the disaster, and the long term impact it had…and continues to have…and will continue to have…for years to come," she said.
Ivan and these other youngsters are known as the Children of Chernobyl. Roughly sixty percent of Soviet nation of Belarus was left contaminated by the nuclear plant disaster. Cases of thyroid cancer jumped tenfold in areas hit by Chernobyl's fallout. That includes young people Ivan's age at that time.
The United Methodist Church created the Children of Chernobyl program in Alabama. It meant free medical care and a chance for these young people to be away from the threat of radiation. Still, Susan Lee says it meant a big leap of faith for Ivan's parents to let him come.
"I don't know I could do that, for my kids," Lee thought. "I don't know if I could send them somewhere without knowing anybody who was going to have…to take care of them. And yet his parents trusted us infinitely to be his second parents."
Church leaders in Alabama knew it was a big ask as well. And, they needed someone who knew Russia firsthand to pave the way.
"Since I'd already lived over there, and been a part of different projects, I felt I could add something to that," said Patrick Friday.
Friday was in seminary to become a Methodist pastor in Alabama. But that wasn't not the only thing on his resume. Friday used to produce documentaries for Alabama Public Television, and he wrote stories for CNN. And, there was one more thing.
"I went over, right when I got out of college, with a group called Education for Democracy," recalled Friday. "So, my job was to be available in the Baltics. To help. It was still the Soviet Union. And people were interested in 'what is democracy?' 'What is freedom?'"
That was before the fall of communism in 1991. Now, Friday was back in a post- Soviet nation of Belarus on a more delicate mission. These children on a teeter totter could soon be heading to the United States. But, Friday would have to win their parents over first. Friday asked local leaders what he could do to build trust that might lead to the Children of Chernobyl program They said bring winter coats for the kids.
He shot video in 1996 as he carried big clear plastic bags to one home. They were full of coats donated by parishioners in Alabama. First, a little girl around five years old steps up. Friday reaches into his bag like a young thin Santa Claus. He pulls out a small blue coat with a plaid liner. The little customer tries it on, and responds with a smile.
An older girl, named Sasha, hangs back. She seems unsure. Friday pulls out a black coat and holds it up. It gets no reaction. More rummaging leads to a purple jacket with patches of green and black. Sasha seems to warm to this one. She tries it on and keeps it.
Many meetings and many coats later, the crowds around Friday started growing bigger. A local school even threw a reception. The children were dressed in white. Their costumes are embroidered in red and green, the national colors of Belarus. And there plenty of introductions. Parents told Friday about their children…where they went to school…what do they like to do. Some would drop gentle hints, like he'll be no trouble.
"And that's when we said we're eager to have them come to us," said Friday. "To fly all the way to Alabama and stay with us."
But, despite the smiles, handshakes, and songs, Friday knew a tough moment was coming. That's when these families gathered at the main airport in Belarus' capitol city of Minsk to say goodbye.
"Think about your own children, let's say they're seven or eight years old, to a foreign country to people you don't know. So, that was the look on their face."
That's tomorrow in part three.
April 22, 2021
"Welcome to Alabama"
All week long on Alabama Public Radio, we've been looking at the ongoing impact of the so called Children of Chernobyl program. Twenty years ago, Alabama families hosted children living in the shadow of the 1986 Chernobyl nuclear plant disaster. APR and the University of Alabama's Center for Public Television collaborated on the story how after this time, the family bonds created by the program still appear strong. In part three, we explains what happened when the kids got here.
"I mean it was an impossible task, to get the kids here, to get their visas, to raise the money," said Patrick Friday.
If you've ever travelled overseas, you know what a challenge it can be. Now, consider what he did starting in 1999.
"It's just a miracle every time the kids came, and they came," he said. "We had four or five groups over the years, 250 kids."
Friday's job was as coordinator of the Children of Chernobyl program that flew youngsters from the former Soviet nation of Belarus to Alabama.
"I remember being in the airport in Minsk, the capitol of Belarus and all those families were there. And I was telling them what was going to happen," he recalled. That day, twenty years ago, the kids hold their passports and plane tickets tightly. Some of the parents hold their children even tighter.
Years of meetings to reassure everyone just didn't seem to help today. "They were also really worried about their kids, because it's not Europe, you know. It was just America across the ocean," said Vita Lutsko.
She starting working with Friday in 1993.
"My mom introduced him to me," she said, "And I got a suggestion from Patrick Friday to move to Alabama with a group of kids, and as my mom's helper as an interpreter."
And, speaking of Vita's mom.
"Before the flight, the families were excited, how would to be, what would happen? how would the kids behave, because they didn't know any English as I told," said Larisa Shapavelenko, Vita's mother.
Being a translator was just her day job. Shapavelenko raised Vita in Belarus in the aftermath of Chernobyl nuclear plant disaster. That meant she knew how tough it had been for the parents.
"The situation became quite difficult here," said Larisa. "And, it was rather difficult for parents to organize the proper life for children."
Now, Shapavelenko and her daughter would travel with up to eighty children at a time during the trips to Alabama. Each young person was presented with a red baseball cap they were asked to wear all the time, so they'd be easy to spot by their host families.
"I was very excited, it was … it was new experience for me. It was really interesting for me to explore, so yeah," recalled Ivan Kovaliou.
He's in his early thirties now. But, he was just nine years old when he headed to the United States. His parents first told him about the Children of Chernobyl program and wanted him to go. Looking back years later, Ivan figured they knew what they were doing.
"If my parents believed in this program, believed that people in other countries can take of me. I think they thought Americans were good people," said Ivan.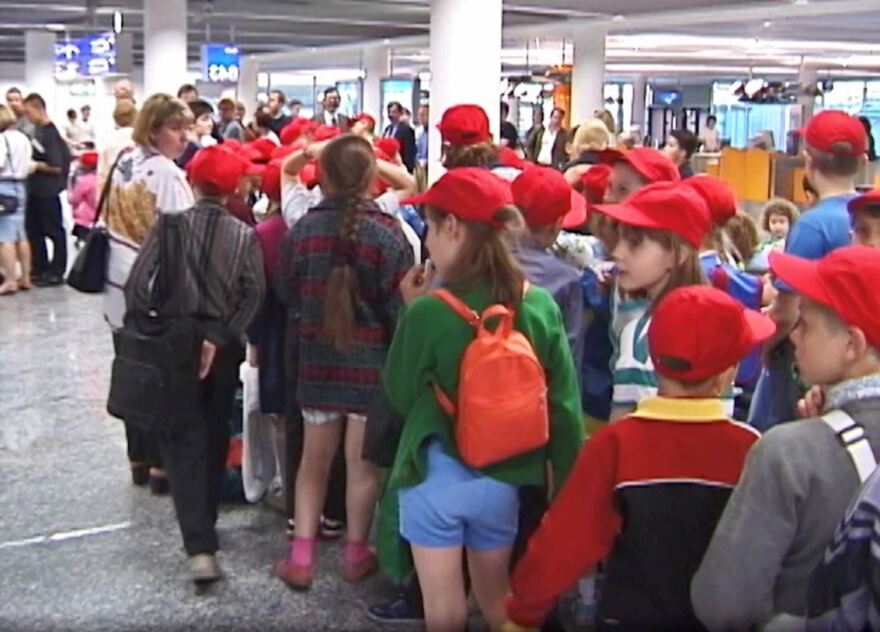 Ivan's parents may have convinced the overseas trip would go fine. But, Larisa Shapavelenko, a little less so.
"They didn't know what the plane, how to behave in the plane, and that was rather difficult," she recalled.
"Everything was exciting. Everything was an adventure, everywhere they went," said Patrick Friday.
"Certainly as we came onto a plane, and you had sometimes up to eighty children coming onto a plane all once," said Friday. "They wanted to try out everything, and press all the buttons, and that created some interesting moments."
And that included changing planes in Frankfurt, Germany, then onto New York and Atlanta before arriving by bus in Birmingham to meet their host families.
"It was interesting, because 'A' you couldn't communicate," said Susan Lee and her family who took in Ivan during his time in Alabama. "They knew no English and we knew no Belarusian. I think they taught us how to say hello in Belarussian, and that was about it."
And the translation issues weren't just for the American families.
"Guys especially boys, they liked when they were taught to play baseball," said Larisa Shapavelenko. "It was rather difficult for me, to explain what is going me. But, nevertheless, they enjoyed it."
"I was telling him he had to take a shower every night," said Susan Lee, on living with Ivan "And, they don't take showers every day, it's not ninety five degrees and one hundred percent humidity there," she said. "So, he would go into the bathroom, turn on the water, and then he would turn it off and come out, and think I didn't know he hadn't taken a shower."
And Susan Lee and her family weren't the only ones making adjustments.
"Min yosavoot Condit, cogdala.. I just said my name is Condit, how are you?" said Condit Steil.
It was the first Russian phrase he learned as he and his wife became host parents.
"We had a little book of sound alike, look alike…they could point to the term in Russian and we knew what they were saying in English," said Steil. "And it gradually grew. We picked up some Russian and they picked up some English."
Susan Lee's guest from Belarus was nine year old Ivan. The Steils took in an eight year old girl named Katia. Condit Steil recalls when he and wife first applied to be host parents.
"As we got to talking, my wife and I are both pharmacists," he said, which prompted a question from organizers. "What do you think the idea, is it we could provide some medicines for them. So, I said let me do some homework. I'm happy to do that," he said.
And, that's how the Steil's role got a little bigger. The children weren't coming to Alabama just for picnics and baseball games. There was medical care as well. Each visit started off with a trip to the dentist. There were also checkups by pediatricians and hearing tests.
A 2018 United Nations report on the health impact of Chernobyl focused on thyroid cancer. This childhood illness has increased steadily to almost six thousand cases by 2015. But, not everyone seemed convinced, even in Belarus.
"It was either complete denial or every minute of every day was related to Chernobyl," said Patrick Friday, who worked in Belarus to arrange the Children of Chernobyl visits to Alabama.
"I think most people had either denial of what it meant or the impact, which is just a survival technique, they couldn't think about it all the time, it was so devastating," he remembered. "Or they had the Chernobyl syndrome, which means everything that ailed them, they attributed that to Chernobyl…everything."
Another school of thought was how Chernobyl worsened poverty in Belarus. Sixty percent of the radiation fell on that nation. The humanitarian group Chernobyl Children International estimates Belarus spends twenty percent of its annual budget managing the aftermath of Chernobyl. If so, that's money not spent on health, education, or anything else. Patrick Friday says either way, harm was done
"Think about our own kids when they live in particular situations, it affects their development," contended Friday. "Whatever it might be…mentally, physically, and spiritually."
Once the children finished their doctor visits in Alabama, it was off to less scary destinations like video arcades. While this went on, Condit Steil was reaching out to other pharmacists for donations.
"Antacids, cough syrups, vitamins, aspirin, Tylenol, antibiotic ointments for cuts and wounds," Steil recalled. "A lot of things you don't think about that are always in your medicine cabinet."
Steils' Sunday school class held packing parties so each child got a pair of plastic gallon bags of medicine. There was also one more request… donated gift wrapping paper.
"So, we had Mother's Day, and we had Easter, and we had a birthday gift wrap wedding gift wrap, Christmas…it didn't matter," he said.
There was a reason for that. The medicines Steil was gathering were either expensive or unavailable in Belarus. Disguising them as gifts was meant to keep local officials from stealing them. More medicines were sent by mail after the visits to Alabama drew to a close.
"It was a new experience for me," said Ivan Kovaliou, who was nine when he spent a little over a month with Susan Lee and her family in the city of Pelham. "
I learned more about Americans," he recalled. "I learned more about their lifestyle. Of course, even that time, we had no information about America, where is it?"
"So, when the departure time came, obviously people couldn't leave the child at the bus," said Patrick Friday.
The families were changed as well. They couldn't just say goodbye.
"They needed to go with us to whatever else we needed to go. So, it was kind of like a caravan. We just didn't want to let go," said Friday. "And ultimately, putting the kids on the plane. There wasn't a dry eye. Everyone was crying."
The children did go back, but that's not where the story ends. We'll talk about that tomorrow in part four.
April 23, 2021
"When Vanya came home"
Next Monday is the thirty fifth anniversary of the 1986 Chernobyl nuclear plant disaster. All week long, Alabama Public Radio and the University of Alabama's Center for Public Television have been looking at the ongoing impact of the so called Children of Chernobyl. That's when Alabama families hosted children in the shadow of the nuclear plant disaster. It may have been twenty years ago, but the story is still unfolding.
"I had no idea then, what it would mean twenty years later," said Susan Lee of Pelham, Alabama. "It's changed me in the fact that it's changed my family. It's given my kids another sibling. It's given them the opportunity to learn about other countries," she said.
"It was beginning of my today's life. So, it was like a piece of puzzle," recalled Ivan Kovaliou.
He was nine years old when he spent over a month with Susan Lee's family in Alabama. Twenty years later, he still remembers.
"I like the kindness. It's like everybody smiles. So, it was really cool."
Even when things didn't work out as expected, like when Ivan and the children of Chernobyl got swimming lessons.
"The swimsuit…I went and bought him a swimsuit when he got here," Lee recalled. "And when he came to the swim lessons with the other kids, all the boys took off the swimsuits we gave them and had their Speedos on underneath, because in Belarus they wear Speedos. So, just lots of funny things that we thought we had all figured out, and had no idea. It was a great education for us as well."
All things end, and that included Ivan's time with the Lee family. He and the other children flew home to Belarus. Susan tried to keep in touch, and it worked…for a while.
"At least through 2004, because Ivan remembers getting a Christmas picture of my two boys," Lee said. "One of my boys was still a baby and he was born in 2004, so that was our last communication there. And then I sent a Christmas the next year and it came back."
"That was my first time in America. That was my first time talking with American people," recalled Vita Lutsko of her time in Alabama.
"I was crying when I was translating for the American parents and the kids, because the situations were so touching, actually, they were do… I don't know…they were so sweet," said Lutsko. "These trips showed that were are humans. We are persons with hearts."
But, there was a question on her mind.
"If it not so cruel to take these kids to America, to show them this life," she thought. "And then to take them back."
Organizers of the Children of Chernobyl didn't list political change as one of its direct goals. To hear Vita Lutsko talk about, it may have been an indirect one.
"They showed their parents, their friends, that life is different. It's not only like in their town, in their village, it is absolutely different, and you can change it if you want," Lutsko said.
Protests broke out in Belarus following last year's Presidential election. It appears someone wanted change. Svetlana Tikhanovskaya is in exile in Lithuania after running for President of Belarus. She lost to the incumbent Alexander Lukashenko. Tikhanovskaya was a child of Chernobyl.
"I wasn't surprised, I wasn't surprised at all," said Patrick Friday. He believed that was reflected in her message. "I can tell you that the future is better if we head in that direction, and of course she was speaking about her experience, being in Europe, I believe in Ireland, it was not theory to her," said Friday.
The protests began after Lukashenko declared the election corrupt and claimed victory. His critics consider him the last dictator of a former Soviet nation.
Politics is one thing. Susan Lee was just wondering what happened to Ivan? And it was that Christmas card she sent in 2004 that still bothered her.
"We don't know why it came back. I thought 'oh no, they've moved.' And, I had no contacts in Belarus. I had no way of finding them," said Lee.
"I thought they moved. And, I thought they've moved and that would be the end."
Ivan moved on with life. Early on, he says he was thinking of trade school. After living with the Lee family, things turned out differently. Ivan earned a full college scholarship and a degree in information technology, better known as IT.
"I work at the biggest IT company in Belarus," said Ivan. "I find job myself after the college. So, now I'm working for six years there."
Working at an IT company meant that after hours, he had the tools he needed to find the Lees.
"First of all, I tried to find her husband, and I find it at Myspace, but it was already closed for that time, okay? I used Google," he said.
Myspace might have been bust for Ivan, but Google Earth was better. Ivan zeroed in on Pelham, Alabama and found enough landmarks from the Lee family to confirm there were still there. Next, Susan Lee says she got a note on Facebook messenger.
"It was an email that said 'are you the family who kept a little boy from Belarus in 2000?'" said Lee. "And, I emailed back and said 'yes, that's us!'
And he said 'It's me, Vanya!"
Vanya was the boyhood nickname Ivan went by when visited Alabama twenty years ago.
"It was not just a three week project. It wasn't just a little vacation for a kid who wanted to come and experience something new. It was a new family. Crossing those borders to see how other people live and how different cultures can come together. I don't know. It was life changing for us," Lee said.
And, that's not where the story ends. Ivan has applied for a U.S. work visa so he can live on a more permanent basis in the United States. He'll learn yes or no next month.